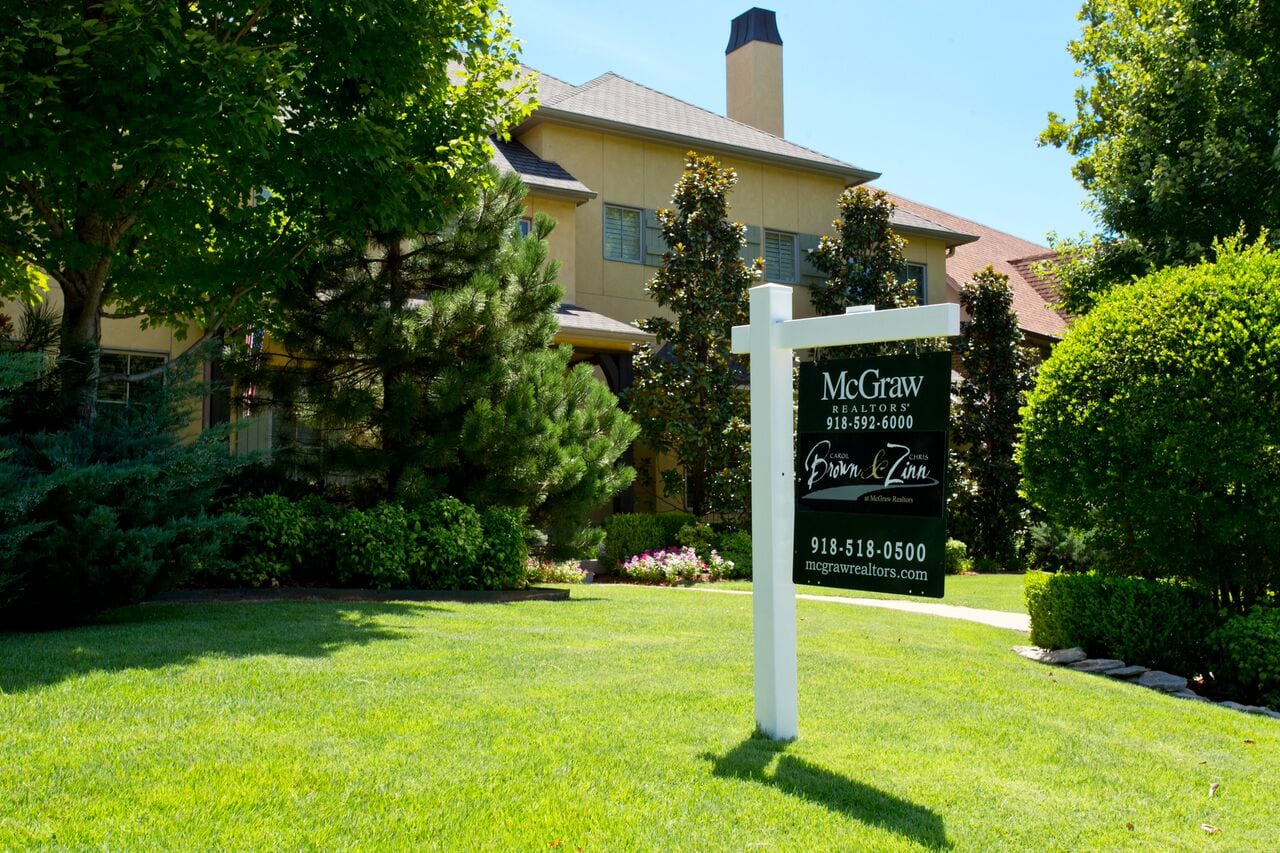 ---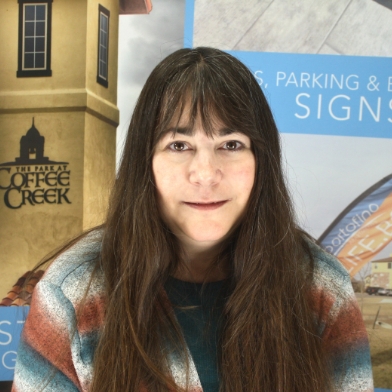 By Michelle Boudreaux
Business Development Executive
---
Here's what we'll cover:
There's no question that the digital age has changed real estate forever.
But even with online giants like Zillow — and now Amazon — shaking up the industry, one thing has remained a staple: The need for local real estate marketing signage.
Why, though? Surely, online searches are quickly replacing the need for signs, right?
That notion couldn't be further from the truth.
Your marketing signage is, in fact, a huge part of your customers' path to purchase, with nearly half of all home buyers' research efforts incorporating some form of real estate signage.
And veteran realtors know this. They use their signage knowing that it's a complementary part of their customers' buying journey and a crucial touchpoint that helps kick off further research into the listing.
Just like every master craftsperson has their most reliable tools, so too do top-performing realtors have trusted signage that they rely on to catch eyes and generate interest.
But for realtors here in Tulsa, when you look out across the landscape of signage providers and their inventory, it can feel a little overwhelming — especially if you're new to the region or a new realtor.
We've got you covered.
In keeping with our reputation for being the trusted signage provider for many of Tulsa's real estate brokerages, we've prepared a list of the types of signs you can rely on to draw attention to your properties and make connections with sellers and buyers alike, all while abiding by Tulsa's real estate signage laws.
1. Coroplast Signs
Perfect for: Residential "Open House" and Directional Signs
Coroplast signs are the versatile and affordable go-to that every realtor relies on to deploy quick, straight-to-the-point messaging.
Not only are they great to use for open houses, but they're also the perfect choice for directional signage to help potential buyers find your property in hard-to-navigate neighborhoods.
What's more, these signs can be appended as riders to any metal frame or sign hanger you might already have on hand, allowing you to stretch your marketing dollars further.
Though they're easy to set up and an extremely cost-effective part of your local marketing, do know that Tulsa has specific laws set up to prevent such signage from littering public landscapes and right of ways.
And these fines, like in the case of one realtor who broke signage laws in a city with similar restrictions as Tulsa, can be hefty, so it's always best to be sure before placing anything.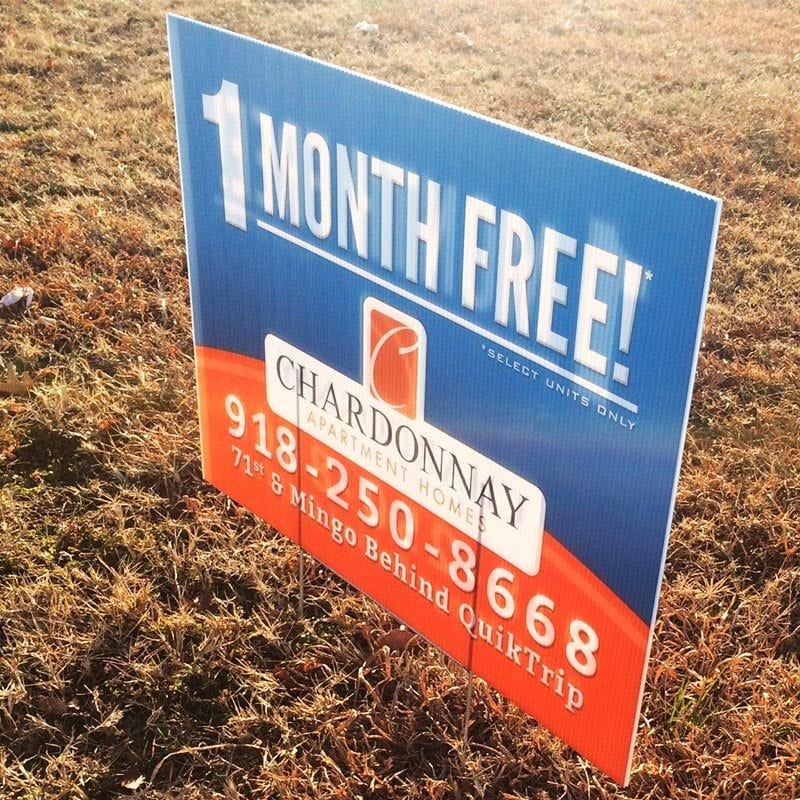 2. Colonial Post Signs
Perfect for: Upscale Residential "For Sale" Signs
When people picture a "For Sale" sign when listing their home, the colonial post sign is what most often comes to mind.
Often made from wood or plastic, colonial posts draw attention to your listing by way of their noticeable height and your hanging sign gently catching the breeze, thus catching the attention of buyers by triggering our hardwired unexpected motion response.
Colonial post signs are an especially prudent addition to your listings for the environment they create, as they help evoke the strong feelings associated with the classic American ideal of homeownership within buyers while giving a clean, finished look to the property.
As with any sign installation, be sure you have permission from any local homeowner's association (HOA) beforehand.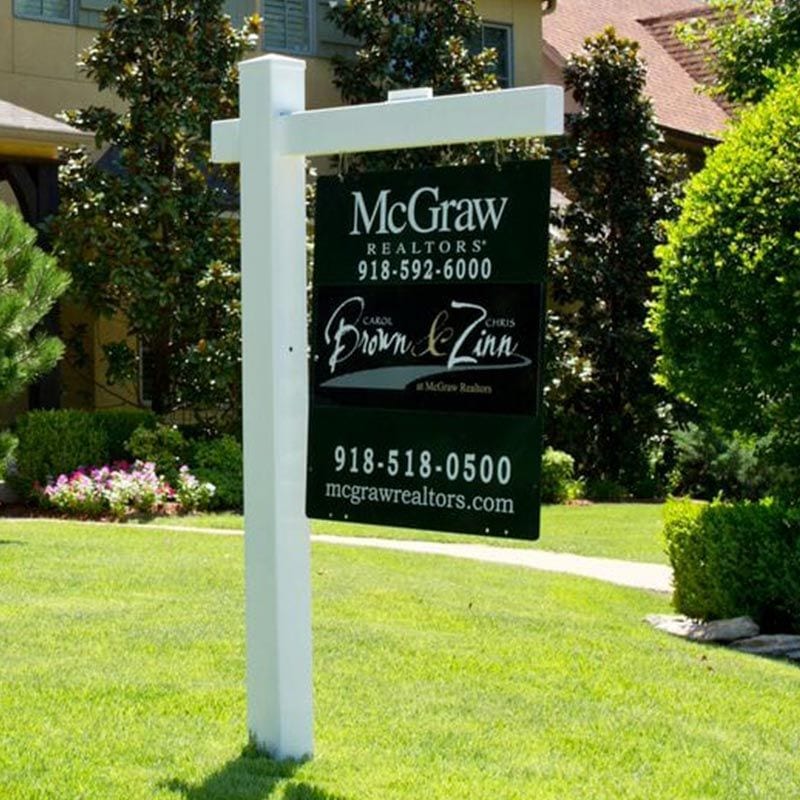 3. Metal Frame Yard Signs
Perfect for: Residential "For Sale" Signs
Lightweight and affordable, metal frame yard signs give you cost-saving flexibility when displaying your "open house" or "for sale" signs on your clients' properties.
Whether you have freshly-printed metal signage or coroplast, metal frames can easily slot either and give it the extra rigidity and durability it needs to withstand the elements while generating traffic.
Recently update your contact information or move to a new brokerage? No problem.
With the flexibility of metal frames allowing you to slot new signage in and out quickly, you don't have to dedicate the budget or time for full-scale reprints.
And if you're working with clientele in higher-end neighborhoods, these can be a great middle ground for homeowner's associations that may not allow smaller coroplast signs or more traditional colonial posts.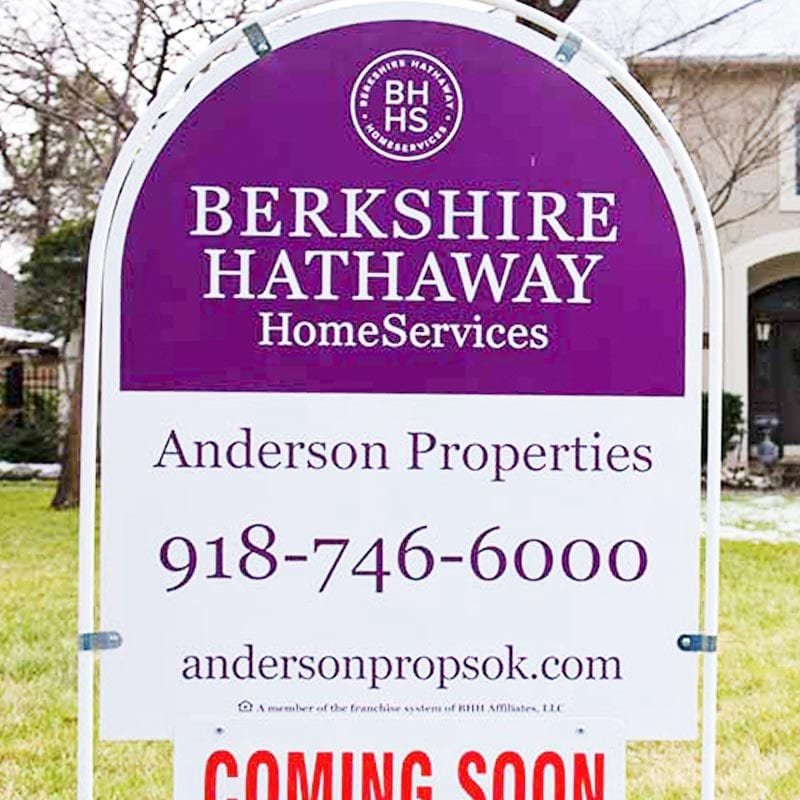 4. A-frame Signs
Perfect for: Residential "Open House" Signs and Indoor Signage
A-frames, also known as sidewalk signs, are a well-known style of open house signage that is perfect for when your client or their HOA doesn't permit the use of yard signs.
However, where the value really lies in A-frames is their indoor-outdoor versatility, an aspect that many luxury home realtors exercise to the fullest.
By placing small, branded A-frames inside of the property to showcase unique features — like specialty fixtures or included appliances — or to provide friendly reminders such as reminding attendees to remove their shoes, you help create a high-quality servicescape during your open houses.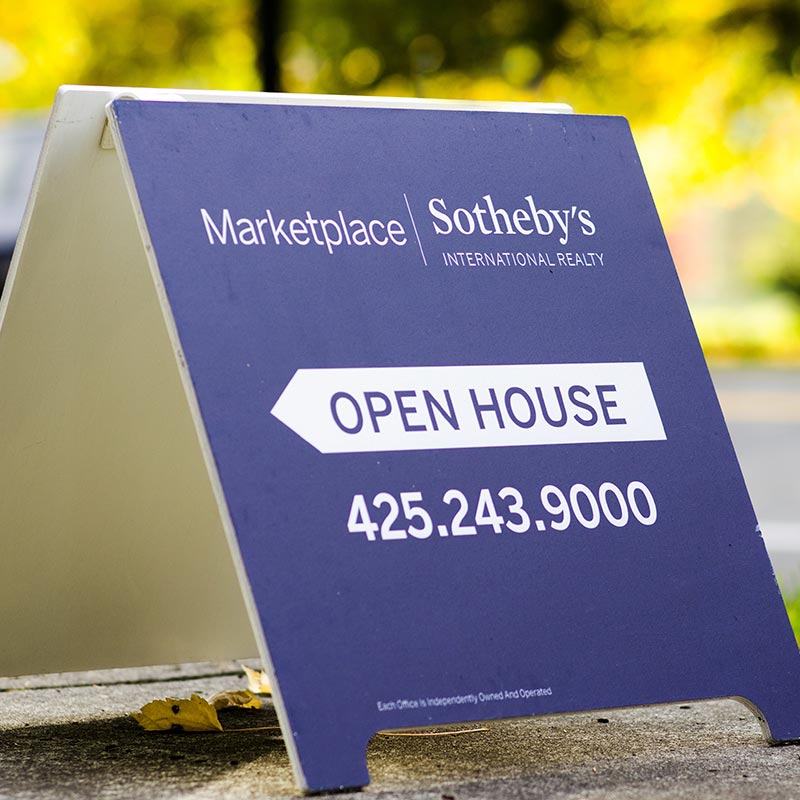 5. Aluminum Signs
Perfect for: Multi-Listing Advertising, Luxury Neighborhood Listings
If you're representing multiple listings or looking to draw attention to open lots in a new subdivision — especially those in high net worth neighborhoods — custom aluminum signs can be an invaluable asset.
And with aluminum's extreme durability, you won't have to worry about your investment falling prey to Oklahoma's unpredictable weather as you would with wooden alternatives that can warp, split, or fade when exposed to the elements for an extended period.
Best of all, your aluminum sign can accommodate every aspect of your branding on each of its sides — no matter your firm's color, font, or design — and can be custom cut to any height or length required.
Bonus tip: If you have close partnerships with builders within the neighborhoods where you have multiple listings, your aluminum signage can be a great way to strengthen those relationships (and draw extra attention) by including their contact information.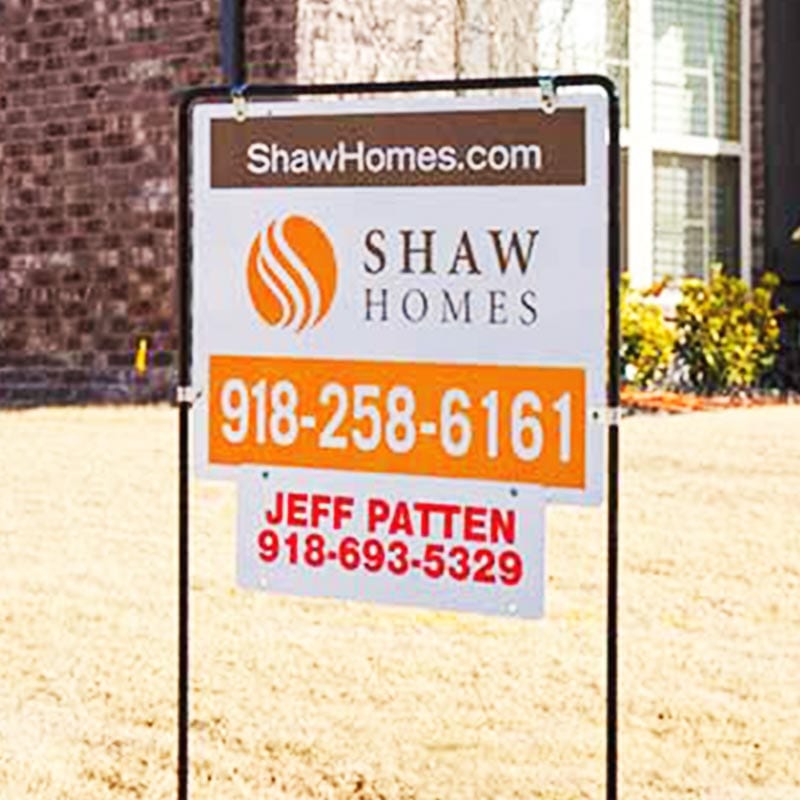 Understanding Tulsa's Real Estate Signage Ordinances
We never want our partners and friends in real estate to be caught unaware, so to help you make sure you're in compliance, we've provided links to Tulsa's most up-to-date zoning codes for real estate signage:
As with anything involving local ordinances, it's always best to ask before installing any type of signage. For any questions regarding Tulsa's signage laws, contact the City of Tulsa's non-emergency line at 311. For out-of-city callers, call 918-596-7777.
Work With the Best in Tulsa Real Estate Signage
We've had the honor of working with many of Tulsa's leading real estate firms and their teams. We would love to have the opportunity to get to know you and how we can work together to bring your buyers and sellers together.
---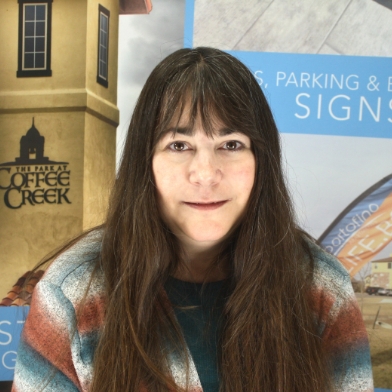 About Michelle Boudreaux
Michelle Boudreaux, Business Development Executive at Lektron Branding Solutions, helps businesses and multifamily brands reach more customers and residents through custom signage that increases foot traffic, brand awareness, and revenue.
---