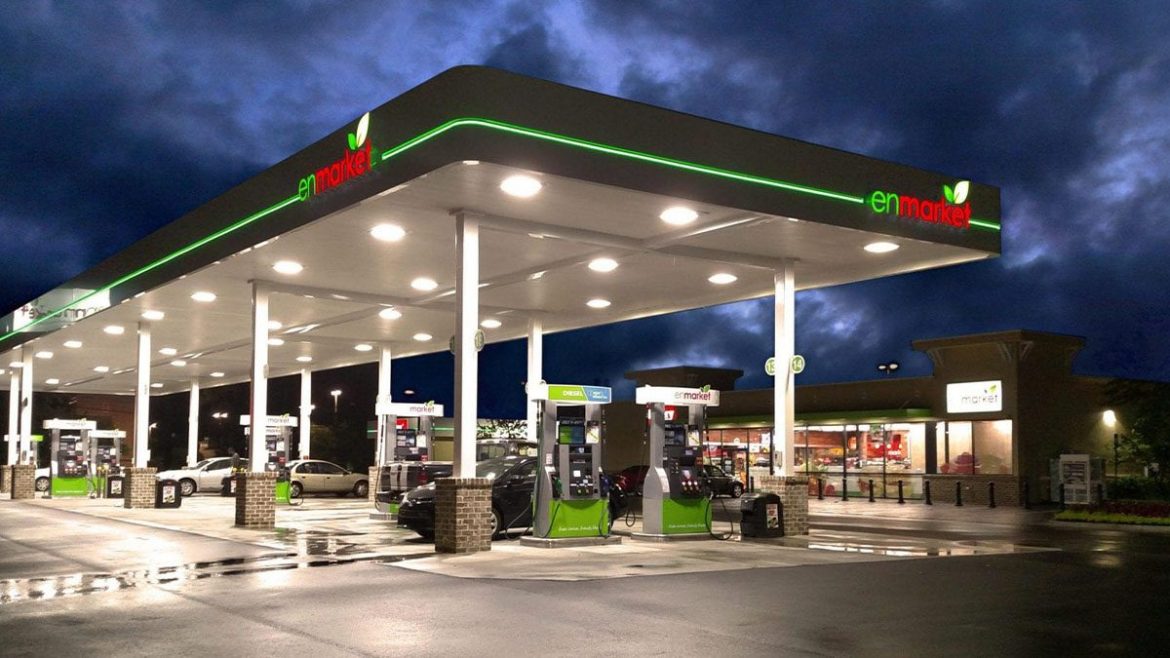 ---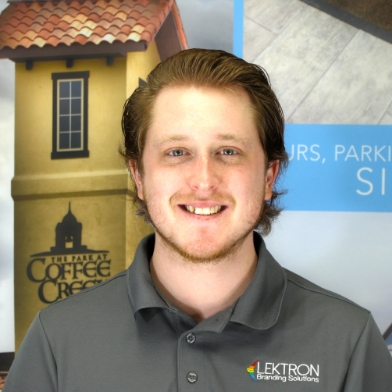 By Cameron Bunch
Inside Sales Executive
---
Here's what we'll cover:
When it comes to having a limited time to capture the attention of their customers, gas stations and convenience stores take the cake.
On average? You've got a little under 2 seconds to capture their attention and get them in your store.
And with the lion's share of your customers in a rush and wanting to spend as little time at your location as possible, nearly every dollar invested in a gas station needs to help maximize its attention-grabbing potential.
For the consumer petroleum sector, LED lighting is one of the most prudent and cost-effective investments that draws in customers, elevates your brand presence above your competitors, and ultimately boosts your sales.
But we'd never have you take our word for it.
Let's dive into how LED lighting — from the canopy of your gas station, to the front of your building, and even on your signage — attracts customers while boosting the safety, productivity and profitability of your location.

Attract customers to your
gas station with VibraLine®
Long life: 50k-70k hours
85% more energy efficient than neon
Seemless color, no sags, no light gaps
Learn More About VibraLine®
What Factors Attract Customers to a Gas Station or Convenience Store?
First, let's get a better understanding of why your customers might choose a particular gas station.
According to The Association For Convenience & Fuel Retailing (NACS), there are a few key factors that influence this decision:
Price, as Communicated by the Gas Station's Signage
Naturally, price is the most important factor customers consider when choosing a gas station. But where do nearly 70% of all customers see that pricing information?
Through your location's signage.
Simply put, the more attractive and eye-catching you can make your primary pricing sign, the better chance you have at winning the attention (and sales) of drivers on the go.
And it's here where LED lighting, like our LumiFlex flexible lighting system, fits that need perfectly. Through the unmistakable brightness, on-brand color, and design versatility of LED signage lighting, customers can easily see your competitive pricing and pull in to your pumps.
Ease of Entrances & Exits at the Convenience Store
While the physical location of a convenience store is one of the chief factors consumers weigh when choosing where to shop, there's one aspect of that location that can give your store the winning edge: how easy it is to find your exits and entrances.
Alongside location, the ease of vehicular exiting and entering of a gas station or convenience store is top-of-mind for more than 60% of all shoppers.
And few brands put that data into action (and, in turn, more revenue) than Tulsa's own QuikTrip.
Throughout every location, they've invested — and continue to invest — heavily in making sure their locations have vivid, site-wide LED illumination that makes their buildings unmissable and bright, eye-catching signage that clearly directs passersby into their store.
Together, this investment in LED lighting and signage create a driving experience that's pleasant for the customer and immediately sets the stage for a positive brand experience throughout their visit.
Brand Reputation
Building a sterling reputation in any industry can be tough, but few industries demand more time, effort, and consistency in order to build such a brand reputation than the world of gas and convenience.
Not only do you have to compete on price, in a market where margins are already thin, but your customers expect a consistent level of quality, fast service, and helpful staff that makes each visit enjoyable and speedy.
This makes every touchpoint of brand-to-customer interaction vital, whether it's your brand's outward presentation — such as the lighting on the front of your storefront and gas canopy — or your staff's friendly service; everything that your customers experience either builds or erodes their loyalty to your brand.
But while it might be a significant investment of time and resources to build that positive brand image, the payoff is immeasurably worth the effort — and the data doesn't lie: Nearly 60% of customers state they're willing to drive a bit further and even pay a bit more for their gas and favorite snacks if it's with a brand they've come to trust.
This is exactly why successful gas and c-store brands invest so heavily in their gas canopy lighting, signage, and other aspects of their branding. In so doing, they lay the groundwork for delightful and consistent customer experiences that naturally build loyalty before the customer has even pulled into the parking lot.
Perceived Quality of In-Store Items
Obsessing over every aspect of the customer experience your gas station or c-store's branding provides customers might seem a little, well, obsessive — but there's a method (and payoff) to the madness.
In the NACS's study, the perceived quality of your in-store items is one of the key factors that keeps folks coming in to stock up on their favorite goodies.
The key to keeping that perception high? Making each interaction with your brand an enjoyable and predictable experience.
And the top brands aren't blind to this fact, which is why giants like QuikTrip invest so heavily in their outdoor and architectural branding — they want you to feel welcomed and reaffirm you made the right choice to stop by before you even pull in.
In turn, this improved perception leads to — you guessed it — more sales. And for as long as we humans are driven to buy based on how we feel, the investment in better outdoor branding will always pay off big.
Don't sweat the legal stuff. We handle everything to make sure your lighting is in compliance with local lighting ordinances and codes.
Contact Lektron
How LED Lighting Helps Attract Customers to Gas Stations and Convenience Stores
By understanding how LED lighting and other elements of LED-illuminated physical branding win attention and foot traffic, you can make better-informed decisions when you're sizing up your marketing and sales goals for 2022 and beyond.
LED lighting helps customers notice your location more easily.
Whether they've just heard about your store or gas station for the first time or if they're a longtime customer of one of your other locations, if a customer has a difficult time finding your location, it immediately sours their feelings toward your brand.
By investing in LED illumination for your storefront, signage, and other physical branding elements, you make your location unmissable.
And when you pair the sheer brightness of LED with your brand's colors, you can leverage the proven power of light and color to passively strike a positive emotional chord within your customers before they've even pulled into your location.
LED lighting amplifies your outdoor signage and other visual branding elements.
Even if you have existing branding elements like signage, retrofitting them and your storefront with durable LED lighting — like our LumiFlex flexible LEDs and VibraLine rigid LEDs — can breathe new life and excitement into your location.
Moreover, not only do you make your location more attractive, your fixed costs for operating your newly-upgraded signage are significantly reduced through the incredible energy efficiency of LED lighting.
LED lighting makes your c-store or gas station stand out from competitors.
Apart from their cost savings and brand-building power, LEDs bring another incredible benefit to the table: Causing your location to become a beacon that stands out from your competitors.
While every market has some element of competition, few industries can match the competitive landscape of the convenience and fuel industry.
And it's here where LED lighting can provide some of its greatest value for your location: making your location unmistakeable, unmissable, and hands-down more attractive to visit.
During an era where every sale matters, and in an industry where competition is at its tightest, LED lighting helps give you the edge over your competitors.

LumiFlex™: Durable, flexible, and
the perfect neon replacement
Long Life: 50,000+ hrs
IP68, UV resistant
Perfect for signs, decoration, and track lighting
Learn More About LumiFlex™
How LED Lighting Enhances the Customer Experience at Convenience Stores and Gas Stations
As the retail convenience and fuel industries continue to overcome the challenges set upon them by COVID-19, ensuring customer safety while optimizing every aspect of the in-store experience has never been more important.
Let's dive into how LED lighting creates safer, cleaner, and more attractive experiences for your customers that will keep them coming back.
LED lighting helps your c-store or gas station feel cleaner to customers.
It's no secret that in the COVID era, cleanliness wins. And as of the NACS's most recent study into the modern shopping habits of customers, it's all the more true: The cleaner stores and stations win more customers and more sales without fail.
And here, LED's shine again: When cool, white LED lighting is used in any location's indoor and outdoor spaces, the combination of brightness and color imbue your spaces with a clean look, make your products more vibrant, and your spaces appear cleaner.
In turn, you generate more in-store business and more repeat customers as your shoppers recognize that you're putting their health and safety at the forefront of your operation.
Bright LED lighting makes your location feel safer and inviting to customers.
The link between lighting and a person's feelings of safety are unmistakably baked into our biology as humans.
And when stores leverage their investment in LED lighting to ensure their indoor and outdoor spaces are well-lit and provide high visibility for both workers and customers, they provide a feeling of security that keeps customers coming back — especially when they're fueling up their cars (or their bodies) late at night or early in the morning.
Over time, these feelings of safety and familiarity borne by your lighting's presence become a powerful emotional link between your customer and their positive perception of your brand, driving repeat business and referrals.
LED lighting makes your convenience store easier and safer to navigate.
Vivid LED lighting makes it easier for customers and staff members alike to recognize and avoid spills, obstacles, and other safety hazards.
Moreover, the well-documented effect of bright lighting in increasing reaction speed and overall awareness turns your lighting into an effective deterrent against injury, lost labor, and potentially costly liability.
From design to fabrication, to delivery and installation, we handle every step of the process, allowing you to focus on your business while we create the lighting experiences that amplify your brand and attract more customers.
Contact Lektron
How LED Lighting Helps Gas Station and Convenience Owners Save Time and Money
LED lighting isn't just a powerful attractor of customers and brand recognition; it's also one of the most effective money and time savers a business can have in its arsenal.
Let's dive into the savings your lighting can generate — and the headaches it can prevent — for your brand.
Lower maintenance needs and energy use of LED lighting keeps fixed costs down.
On average, commercial LEDs reduce overall lighting energy consumption by roughly 75%.
While alone makes the investment in LED lighting worth it, the savings don't stop there. With the 50,000 – 70,000 hour of our lifespan afforded our industry-leading Vibraline® LED system, you not only save on energy, but also on regular maintenance costs.
Moreover, with Vibraline's easy surface mount technology, you also save money upfront on your investment, as installation can be performed quickly and easily by either your crew or ours.
LED lighting helps staff stay alert and can reduce workplace accidents.
Optimizing staff efficiency is key for any convenience chain or gas station that's aiming to maximize profits and drive greater brand value for customers.
And it's here where LED lighting provides some of its greatest, yet not so obvious, value: improving the awareness and output of your teams.
Bright LED lighting, especially colors within the lighter temperatures (~ 6000k), is proven to boost worker attention, reaction time, and even improve mood. This directly impacts not only their overall performance, but also their ability to help prevent accidents that can lead to lost productivity, or worse, costly injury and liability claims.
Vivid LED lighting can help reduce overall theft and vandalism rates.
In one of the largest joint studies of its kind, the Urban Institute Justice Policy Center and the National Institute of Justice partnered in their study of how to most effectively abate the multi-billion dollar problem that is retail theft and burglary.
With these findings, they aimed to produce a comprehensive list of best practices that retailers could implement to help curb loss at their stores.
Among the top of their recommendations? Vivid, store-wide lighting for both your indoor and outdoor spaces.
Simply put: Thieves, vandals, and criminals of all sorts don't like to be seen. And when they feel they're in full view of the entire store due to its vivid LED lighting, they're far less likely to make for the door with stolen goods.
How LED Lighting Increases Convenience Store and Gas Station Sales
No matter what line of business you're in, there's really only ever one question that really matters when you're considering an investment like LED lighting for your gas station or c-store:
How can it help you make more money?
Let's bring together everything we've covered together to get a definitive look at how your LED lighting works to attract more customers, increase sales, and make more money for your location.
Your bright, on-brand lighting brings more people to your gas station or c-store.
Above all, your customers want to feel like they're doing business with a convenience store or gas station that cares about their safety, the quality of the goods sold, and the overall experience they provide.
And through your lighting, you meet these needs head-on.
Your branded, vivid lighting makes your customers feel safer, helps them find and navigate your parking lot quicker, and instills a sense of ease and familiarity with your brand.
Inside the store, the LED lighting in your coolers, shelves, and other spaces make your store feel clean as a whistle while making your products pop and catch the attention of everyone that walks by.
And as they leave, the branded experience you offer them — from your lighting to your signage — is amplified by the service and support you provide as they check out and head off to their next destination.
These are the consistent branded experiences that win new customers and turn them into fierce brand advocates for your business.
Your LED lighting makes your location and merchandise more attractive.
Lighting has a proven and direct impact on how customers perceive the quality of your location, your goods, and your brand as a whole.
By investing in vivid LED lighting for your gas station or convenience store, you immediately improve the overall perception of your brand to the customers you're wanting to reach — creating more opportunities for food traffic and sales.
Your location outperforms your local competitors.
LED lighting doesn't just put — and keep — more money in your pocket. It's a direct investment in keeping your competitors on the back foot and scrambling to keep up.
While your local competitors can try as they might with special promotions or discounts, they won't be able to out-perform how well your location's lighting and branding works together to passively attract more customers to your store.
And if you leverage the power of LED lighting to amplify your gas station signage? That's a powerful and cost-saving 1-2 punch that your competitors can't hope to match.
Increase Sales for Your Gas Station or Convenience Store with Lektron
No matter the size of your gas station or convenience store, we're ready to explore how our industry-leading LED lighting systems and other visual branding solutions can help increase foot traffic and sales for your locations.
Call our team at 1 (918) 622-4978 or contact us online today. When you're ready, we're ready. Let's roll up our sleeves and get to work.
Let's work together to amplify your brand, decrease your energy costs, and attract more customers with our LED lighting solutions.
Contact Lektron
---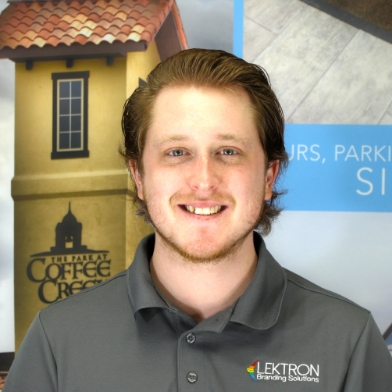 About Cameron Bunch
Cameron Bunch, Inside Sales Executive at Lektron Branding Solutions, helps North American businesses implement cost-saving LED lighting technologies to amplify their brand — attracting more customers and increasing revenues.
---